The Butler Homestead
On BCCS property, near the entrance to Bulter Cave, we have a fieldhouse we call "The Homestead." The property is less than a mile north of Burnsville, Virginia. The Burnsville area is very rural, with no stores or gas stations nearby.
The building is an old log cabin that had been the Butler family homestead for generations. Inside there are chairs and a sofa, with a wood stove for heating the cabin in cold weather. Upstairs are 12 bunk beds, 8 of them with mattresses. There is a large field for tent camping, with many camping spots shaded by trees. It is always a good idea to bring a tent in case all the bunks are taken.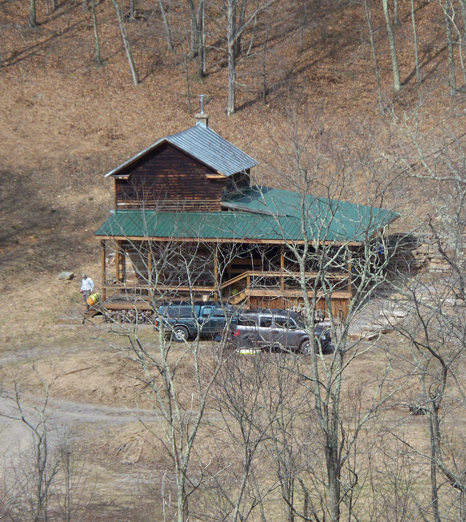 We have water from a good spring for cooking, washing, and bathing. Some people drink it, but it has not been tested; so it is safer to bring your own drinking water for the weekend. Water needs to be fetched from the spring, so please do your share of the fetching. Sometimes folks fire up the charcoal grill at dinner time, and there is a nice big covered porch to relax on. No electric, no phone, no cell service, no running water. We do have a warm-weather outdoor shower fed from the spring; and if you build a fire under the tank you'll have a hot shower.
Outside, under the porch roof, we have propane burners that you can cook on and a sink for washing. Most people bring their own plates, pots, etc., but we have an assortment of plates, cutlery, glassware, pots, pans, etc., that you are welcome to use. Please wash anything you use, and put it away inside the cabin cupboards when you leave at the end of the weekend. Items left in the drying rack by the sink get very dirty; sometimes they blow away and break.
The driveway to the homestead is gravel with one slightly steep hill. 4WD or AWD is highly recommended. A good 2WD vehicle plus a little skill usually gets up the hill, but not always. If you can't make it up the hill, park at the very bottom by the gate and make the mile-long walk to the homestead; someone will ferry your gear in.
If you are accompanying a caver but are not a caver yourself, there many other things to do. There are wonderful hiking and mountain biking trails in the area. There is also trout fishing and a great swimming hole on the Bull Pasture River. In Monterey there is a little antique and craft shopping, and in Warm Springs there are restaurants and a spa; both these towns are about 30 minutes away.
Bring with you what you will need for the weekend. The nearest convenience store and gas station is about 25 minutes away, and the grocery store is about 35 minutes away.
There is a large stone patio with picnic tables, and a stone fire ring for evening camp fires. For safety, we do not allow open flame in the homestead or on the porch.
At the end of the weekend, all the trash and recyclables need to be hauled away to the county dumpsters. We have had problems with animals rooting around in neglected trash and breaking things.
We do not charge for staying at the homestead, but we do appreciate your assistance in keeping it neat, clean, and well-maintained. Donations of large trash bags and toilet paper are always useful and appreciated, and you might really be happier if you bring them!
Thanks!