The Butler Cave Conservation Society, Incorporated, is a 501(c)(3) non-profit Virginia corporation dedicated to the conservation, exploration, survey, preservation, and scientific study of Virginia's longest and deepest cave systems.
The BCCS owns or otherwise manages scores of caves in Bath and Highland Counties, including the Butler Cave-Sinking Creek System and the Chesnut Ridge Cave System (Bobcat, Burns, and Blarneystone Caves). Currently we have explored, mapped, and taken steps to conserve over 50 miles of caves, all centered around the Burnsville Cove.
We are still actively exploring and finding new cave "in the cove" and we welcome experience cavers to come join us with surveying, exploring, digging, and preserving the caves in the Burnsville, Virginia area.
To get involved, read about our expeditions, check out our calendar for dates, take a look at some past trip reports, and learn a little about the Society.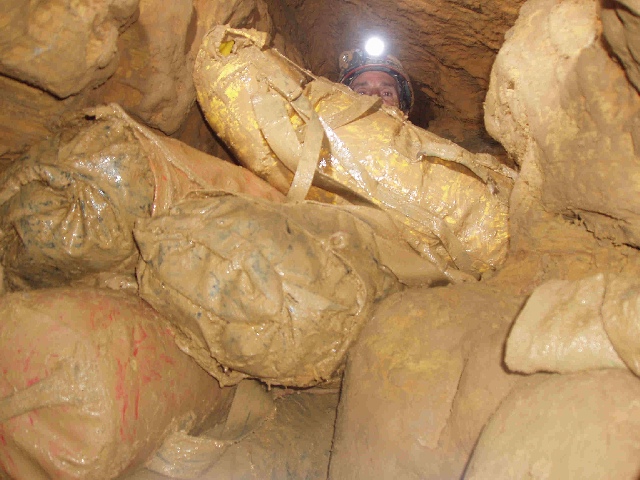 Ed Kehs Sr. peering over a pile of muddy cave packs in Bobcat Cave.